This blog has moved to :
iladdie.wordpress.com
Thank you for reading this blog! All my posts have been copied to Wordpress.
I was looking at the Instagram feed of Allan Logan and I reacted on a hint given by Lisa Weisstuch. She said about Adam Hannett's Black Art 5 that it will haunt her dreams for a long time to come.
I reacted by hinting at the existence of Black Art 5. Allan Logan replied with :"BA5 is being released very soon"!
photo by Martin Ahlquist : http://www.martinsmalts.se/
Martin Ahlquist from
http://www.martinsmalts.se/
has had the pleasure of a taste. I look forward to his tasting notes. Please see his
instagram post
about Black Art 5.
I have known about Black Art 5 since I found the label online on August the 31st this year. The label was approved by TTB for the USA on the 25th of August 2016. I see the confirmation by Alan Logan as the go I needed to be able to blog about Black Art 5.
Photo by Reedpettit, Canadian Brand Ambassador:
https://www.instagram.com/p/BMNWSKphePa/?taken-by=reedpettit
During my warehouse experience at the distillery on Saturday October 15th I asked the tour-guy if he knew when Black Art 5 would be revealed. He suspected early January 2017.
labels as found on ttbonline.gov
labels as found on ttbonline.gov
Black Art 5 is a 1992 expression and is now 24 year old. This is going to be one hell of an expression. The ABV is 48,4%. This is a 12.000 bottle release. Naturally no information is given about the casks used, except that they were Oak.
My budget will probably not allow me to buy a bottle, but I have some Bruichladdich expressions that are pretty unique too. If anyone would be willing to swap samples I'm game!
First review I found on whiskycast scoring a whopping 97:
https://whiskycast.com/ratings/bruichladdich-black-art-5-1/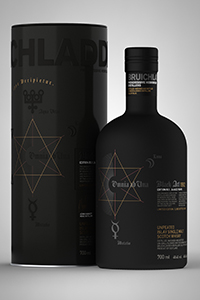 Photo as found and linked here to Whiskycask.com
Just before going on to the next blog I would like to mention the excellent charity started by
Ben Bowers
for a children's heart surgery Hospital.
https://www.justgiving.com/fundraising/adramaday